YCOPD 003
-
Agile Project Management: Practice and Certification
6848342
Language of Delivery
English
Delivery Format(s)
Self-directed Online Learning
Description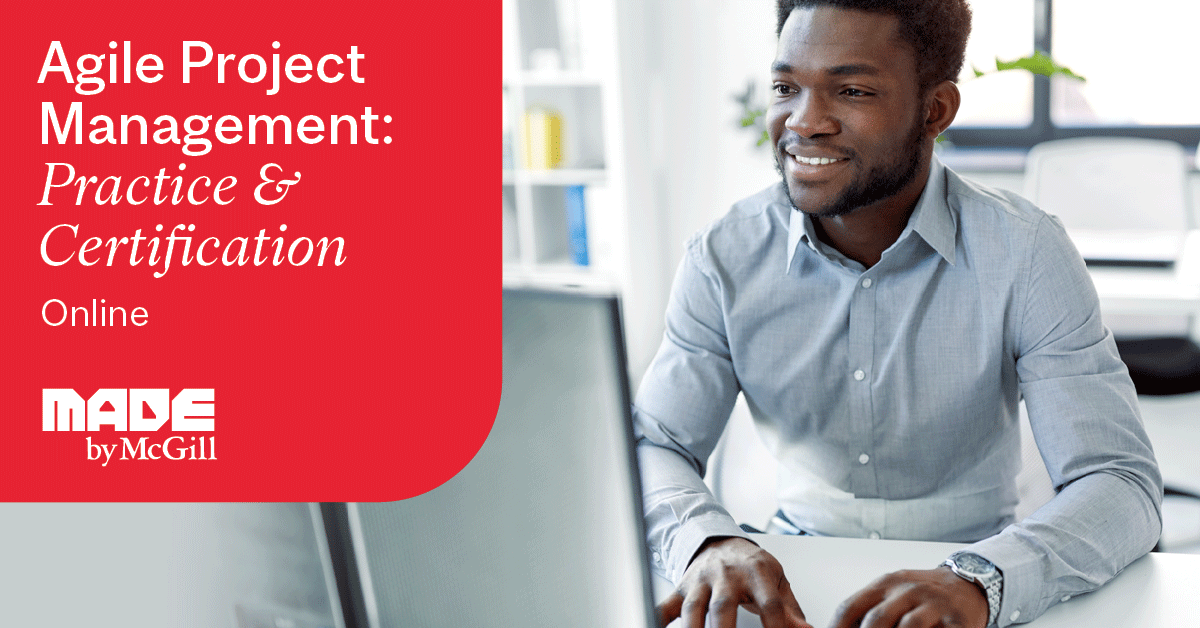 Whether you are new to agile project management methodology and need to understand the fundamentals of the agile approach, or you are an experienced practitioner wishing to refresh your knowledge in preparation for the certification exam, this self-directed Agile Project Management: Practice & Certification online course is designed to meet your needs.
Learn at your own pace – anywhere at any convenient time!
This course provides a comprehensive and interactive online learning experience to help you discover and apply Agile concepts, principles, practices and techniques in project management. Course content is fully aligned with the Agile Manifesto and Agile Practice Guide supporting the globally recognized Project Management Institute's fastest growing certification - Agile Certified Practitioner (PMI-ACP)®.
Your virtual mentors – seasoned McGill instructors and industry experts – share their real-life professional experiences through mentor video clips.
As part of the course, you will have access to the PMI-ACP-style exam questions to help you practice and build confidence.
Professional Development Units / Contact Hours: 35.00
---
Save a total of $300 when you register for both Project Management: From Principles to Practice and Agile Project Management: Practice and Certification.*
*To select this discount, both courses must be in your basket at checkout.
For each course, make sure to check the box beside 'Apply a discount' and, in the dropdown menu, select 'Online Project Management Discount Package'.
Topics Covered
Module 1 - Agile Introduction
Module 2 - Agile Scrum Framework
Module 3 - Agile Lean and Kanban
Module 4 - Agile Extreme Programming
Module 5 - Agile Processes and Methods
Module 6 - Agile Planning and Prioritization
Module 7 - Agile User Stories and Estimations
Module 8 - Agile Risks, Problems and Resolutions
Module 9 - Agile Communication and Collaboration
Module 10 - Agile Team Coaching
Module 11 - Agile Retrospectives and Continuous Improvement
Learning Outcomes
Upon successful completion of this course, you should be able to:
Articulate Agile concepts, manifesto, principles, processes, events, artifacts, roles, and responsibilities
Apply Agile frameworks, techniques and best practices
Plan and prioritize using adaptive, relative, iterative, and time-boxed Agile estimating tools and techniques
Mitigate project risk through organic/overt Agile team practices and risk-adjusted problem resolution techniques
Deliver innovative projects leveraging Agile team communication, collaboration, and coaching
Improve project performance via effective Agile meetings, reviews, retrospectives, and continuous improvement activities
Be ready to take the PMI-ACP® certification exam
Notes
If you are taking this course in preparation for the PMI-ACP® certification exam, you should obtain the latest copy of the PMI's Agile Practice Guide to support your studies.
Technical Requirements:
Windows 7 or higher, MAC OS X
High-speed Internet connection (DSL or cable)
Headsets with microphone (USB recommended)
Webcam
Latest versions of Internet Explorer, Chrome, Safari
Microsoft Office Word or compatible
Prior to registration, we encourage you to verify that your computer is compatible with our learning management system by clicking on this link.
Who Should Attend?
Project, program and product managers who wish to enhance their ability to deliver business value.
Required fields are indicated by .