YCWPD 006
-
Direct Thyself: Self-Management Skills for Self-Leadership
57290
Description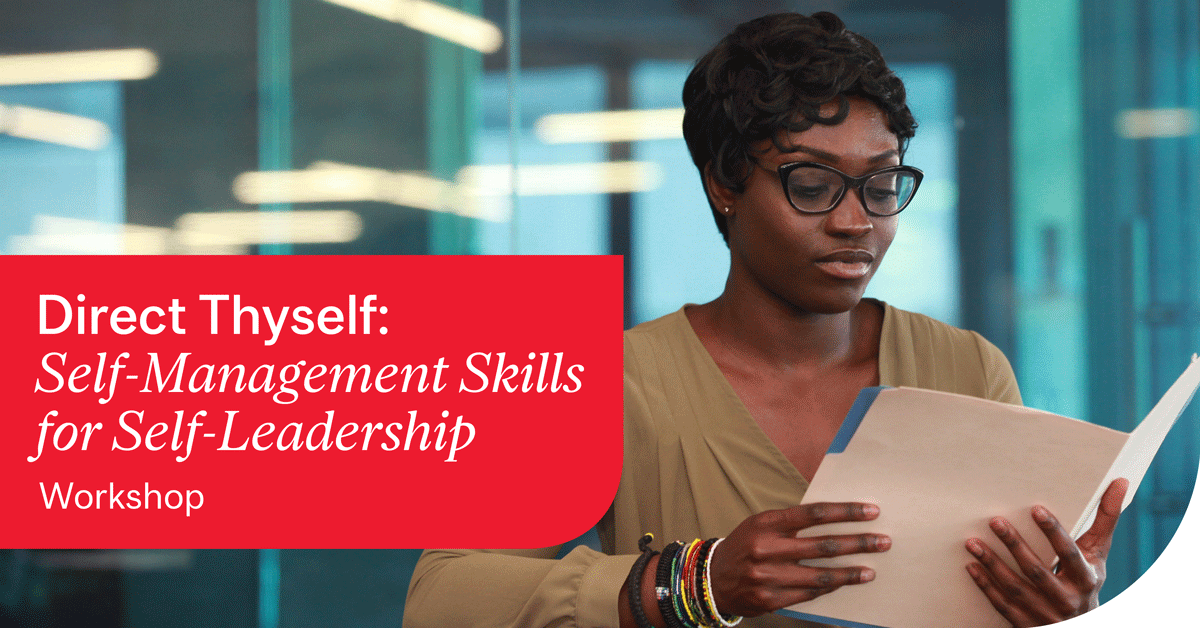 Faced with a challenging work life, many people simply cope. But 'making the best of it' seldom allows us to do our best. Effective self-management is essential for professionals who wish to do their best, lead themselves and lead others, and is a foundation of setting and achieving valuable, fulfilling goals. This workshop is for the professional who understands that their own self-management is both beneficial and right at hand.
This workshop begins your progress from a demanding work life to where you can begin understanding and practicing the primary elements of self-leadership. Self-management will be surveyed as an outcome of self-awareness and as an introduction to leading others effectively, with an eye to fostering your own exceptional performance at work and in life.
Topics Covered
Emotional intelligence
Self-awareness (preferences and values)
Prioritization and time management
Stress management
Self-development and self-motivation
Communication issues
Goal-setting
Learning Outcomes
At the end of this course the participant is able to:
Evaluate your preferences, strengths and values.
Understand and apply crucial elements of personal prioritization and time and stress management to your professional and personal lives.
Recognize how motivation can play a role in your own self-management.
Create self-motivating strategies to increase effectiveness.
Know the basic issues of communication to manage the relationships around you.
Produce your own personal development plan to advance your own self-management/self-leadership goals.
Who Should Attend?
Professionals; individual contributors or those who lead others; with a focus on those who have recently begun leading/managing (first-line managers, mid-managers who have risen to the next hierarchical level of leadership responsibility, etc.).

Course Fee: $895
Duration (hours): 14
Discounts: McGill alumni and current students, as well as corporate groups of 3 or more participants, benefit from a 15% discount.
Required fields are indicated by .