YCOPD 002
-
Project Management: From Principles to Practice
502741
Language of Delivery
English
Delivery Format(s)
Self-directed Online Learning
Description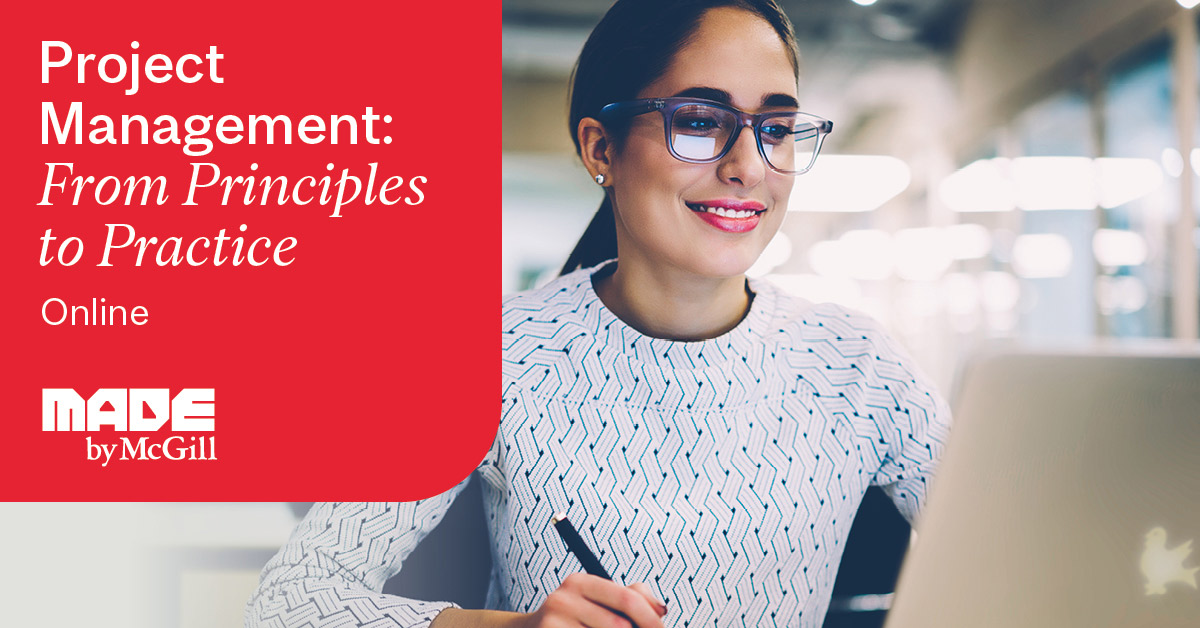 Learn at your own pace. Focus on trouble spots. Anywhere you go, at any convenient time.
Project management skills are required in any workplace – whatever your profession. Whether you need to understand the fundamentals or intend to choose a career in project management, this online course, developed by experienced McGill instructors, is a great place to start!
This course aims to provide a comprehensive overview of key project management concepts underpinning current project management practices and tools. It explores concepts, practices, terms, and definitions presented in the following PMI® Standards and Practice Guides.
The course consists of 14 online modules. Case studies, quizzes, practical tips and advice provided by experienced project management professionals complement the theory and concepts explained in the course. Downloadable templates allow you to apply your learning immediately on the job.
Your virtual mentors – McGill instructors who are seasoned project management professionals – share real-life cases and in-the-field experience through mentor video clips.
---
*To select this discount, both courses must be in your basket at checkout.
For each course, make sure to check the box beside 'Apply a discount' and, in the dropdown menu, select 'Online Project Management Discount Package'.
Topics Covered
Introduction
Project Management Foundations
The Project Environment
Project Managers & Their Role
Project Integration Management
Project Scope Management
Project Schedule Management
Project Cost Management
Project Quality Management
Project Resource Management
Project Communications Management
Project Risk Management
Project Procurement Management
Project Stakeholder Management
Bringing it All Together
Learning Outcomes
On successful completion of the course, you will receive an attestation from McGill's School of Continuing Studies indicating that you have earned 35 Contact Hours of formal project management education.
The course is designed to enable you to:
Demonstrate a solid understanding of project management principles and concepts
Articulate the key role, responsibilities, and skills required of a successful project Manager
Apply practical tools and templates to current and future projects
Anticipate and manage some of the common situations and challenges that project managers face
---
Contact Us
pce.scs@mcgill.ca

Monday to Friday 9:00am to 5:00pm
(Tel): 514-398-5454
---
Technical Requirements
Windows 7 or higher, MAC OS X
High-speed Internet connection (DSL or cable)
Headsets with microphone (USB recommended)
Webcam
Latest versions of Internet Explorer, Chrome, Safari
Microsoft Office Word or compatible
Prior to registration, we encourage you to verify that your computer is compatible with our learning management system.
Required fields are indicated by .