YCWPD 058
-
Continuous Transformation: Beyond Change Management
3241801
Description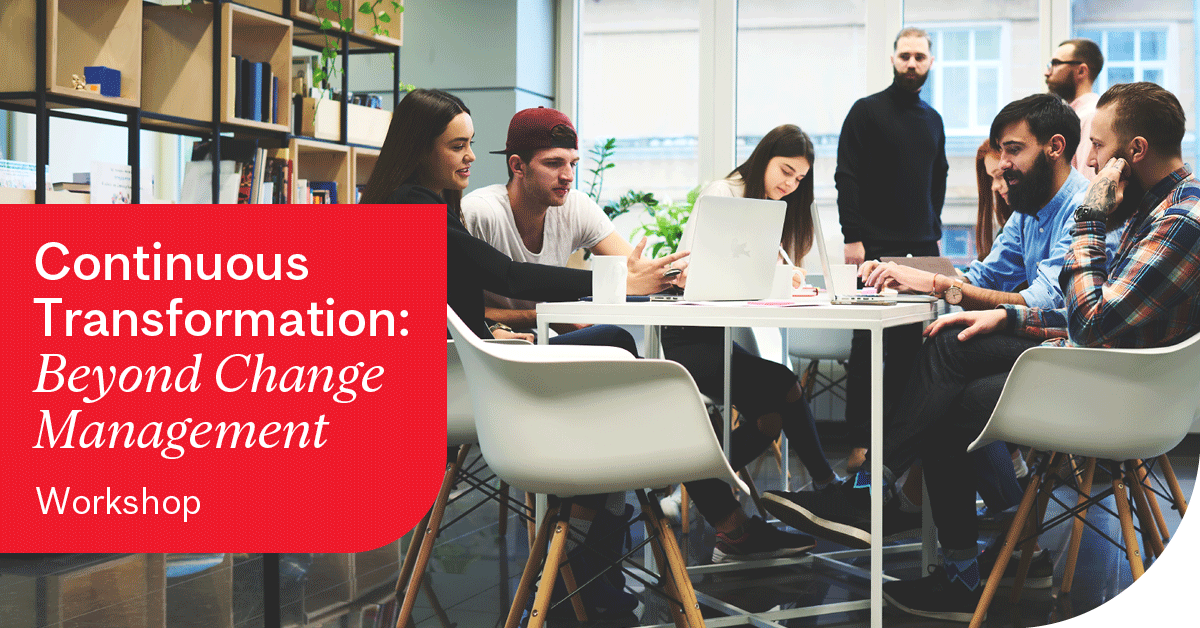 Organizational transformations are no longer one-time efforts; they are a new norm for almost every industry, regardless of company size. Become an agent of continuous transformation and support the transition of your organization towards a Continuous Transformation Model.
According to McKinsey & Company, two out of three organizational transformations are failing today. Often, organizations blame internal culture and lack of employee competencies whereas half of the failures start at the strategic level. To cope with this reality, organizations need to transition from silo-driven efforts and initiatives to a Continuous Transformation Model to decrease wasted investments and efforts.
This practical workshop will examine the different elements constituting an organizational transformation. It will explore the shortcomings and the root causes of failures, as well as introducing the Continuous Transformation Model, which can be applied to increase the success rate in an organization's transformation journey.
Topics Covered
What is a Continuous Transformation Model
Transition into a Continuous Transformation Model
Assessing the Transformation Pillars as a prerequisite to major investments
Aligning Strategy to Execution and Value Realization
Portfolio Management and Governance
Change Management and identification of resistance
Creating a Continuous Improvement Environment
True Customer Experience Management
Omni-channel Strategy
Going Digital
Learning Outcomes
Upon completion of this workshop, you should be able to:
Understand how to assess the transformation pillars in your organization prior to major investments
Align strategy to execution and value realization in a scientific manner
Quantify the value gained by an organization with every dollar spent on transformation
Identify and manage resistance to change
Identify the gaps and define the elements needed to establish a Continuous Transformation Model in your organization.
Increase the success rate of your transformation efforts
Create a continuous improvement environment in your organization
Who Should Attend?
Executives & Senior Managers
Transformation Leaders
Transformation Experts
Innovation Leaders & Experts
Transformation Office Professionals
PMO Professionals
Portfolio Managers
Change Management Professionals
Process & Business Architects
Continuous Improvement Professionals (Lean-Six Sigma)
Project Managers & Business Analysts
Agile Experts
Enterprise Architects

Course Fee: $595
Duration (hours): 7
Discounts: McGill alumni and current students, as well as corporate groups of 3 or more participants, benefit from a 15% discount.
Required fields are indicated by .