YCWPD 076
-
Creative Business Transformation: Turning Crisis into Opportunity Slingshot Certification Course
14582716
Description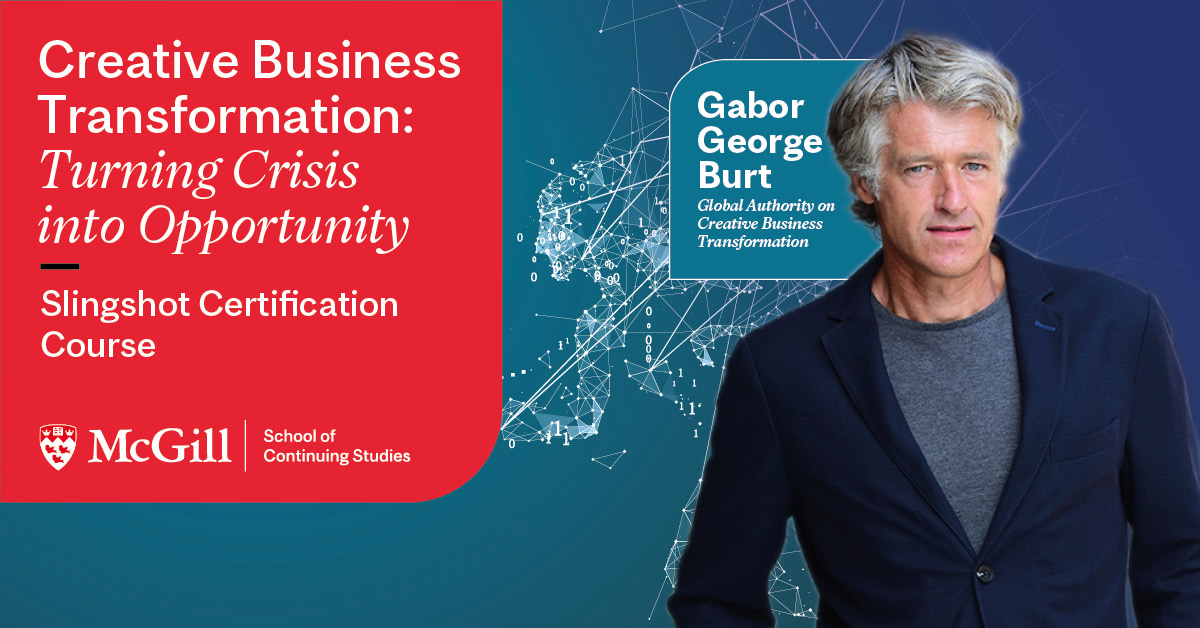 Never before have the skills of creative business transformation been more critical. In a business world that is increasingly volatile, uncertain, complex, and ambiguous, business leaders and entrepreneurs need practical tools to effectively rethink business challenges, models and products, harness creativity and drive business growth in the face of disruption.
Taught by Gabor George Burt, top Blue Ocean Strategy expert, global authority on creative business transformation, and originator of the Slingshot Framework, this Creative Business Transformation Certification course offers a practical approach to "Blue Ocean" creation. Ideal for business leaders, managers, coaches, consultants, trainers and entrepreneurs, this course covers the key insights and tools offered by the Slingshot Framework to distill the complexity of successfully navigating the current environment, and enable participants to continuously transform their business for growth and relevance.
This certification course comprises the following:
Introductory webinar
Three hour Masterclass
One-hour interactive application symposium one month following the Masterclass
Digital copy of Slingshot: Re-Imagine Your Business, Re-Imagine Your Life by Gabor G. Burt. (This book is only privately available and serves as an exclusive resource for participants).
Online Certification exam
Certification badge upon successful completion of the exam
Topics Covered
Topics covered include:
Fundamental principles of Blue Ocean Strategy
The Six Question Test which exposes your self-imposed mental boundaries about your business
The "perpetual crisis mindset" and critical elements of creative business transformation
The process of continuously re-imagining market boundaries
Core concepts of the Slingshot Framework
Mapping customer journeys and diagnosing pain points
Harnessing the power of turning pain points into points of delight and infatuation
Taking advantage of the "Innovation Shortcut"- fusing together already existing components to generate unprecedented customer value
Business transformation tools including the Accordion Chart, Slingshot Grid and Infatuation Interval Index
Learning Outcomes
This course is designed to help you achieve the following:
Rethink the limitations of your business to increase its relevance, create new avenues for growth and build "customer infatuation"
Map your business' strategic positioning to align customer experience design, innovation, corporate culture and corporate strategy
Turn customer pain points into points of delight and joy
Uncover new opportunities for relevance and growth
Harness the collective creativity of your team
Take advantage of the innovation shortcuts to minimize resource needs and maximize your market impact
Earn the Slingshot Certification
Who Should Attend?
Business leaders seeking to future-proof their business and leverage new opportunities for growth
Business consultants, coaches, advisors or trainers wishing to master new tools to help their clients transform
Students or entrepreneurs looking to launch a new business

Course Fee: $795
Duration (hours): 4 (without webinar)
Discounts: McGill alumni and current students, as well as corporate groups of 3 or more participants, benefit from a 15% discount.
Required fields are indicated by .