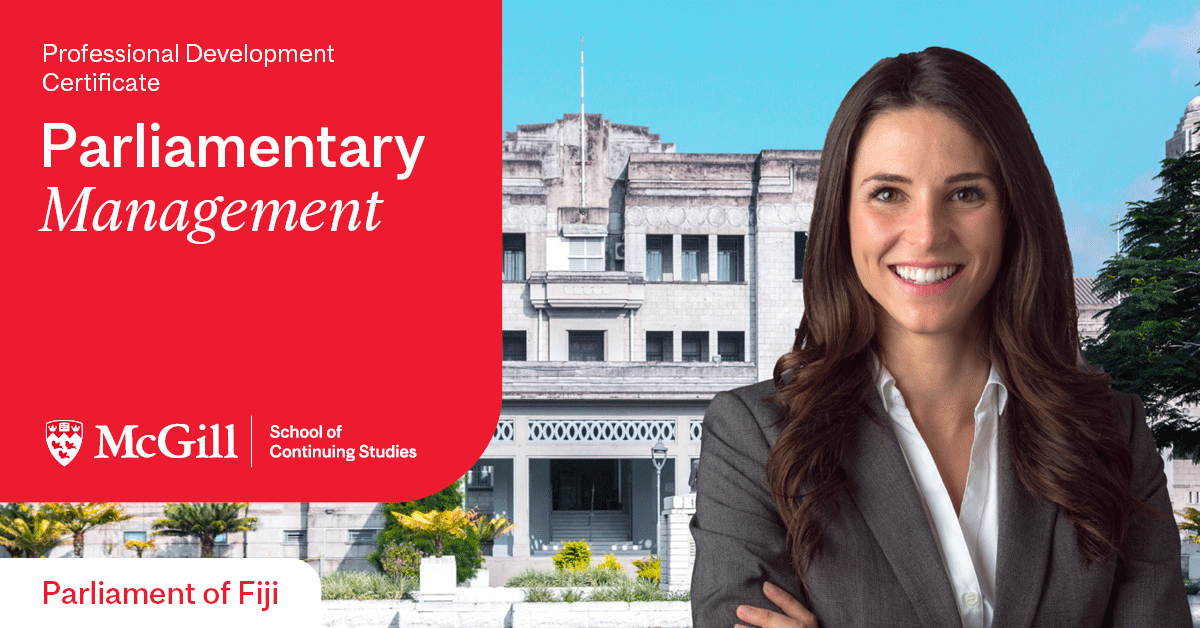 Official Description
This non-credit professional development certificate program is designed for mid-level parliamentary staff who have the potential to reach the highest levels of parliamentary management. Emphasis is placed on international best practices in parliamentary management focusing on their application to parliamentary settings within different political systems and cultures. Combining theory and practice, this program uses a blended learning methodology and gives participants the flexibility to personalize their learning based on their role in parliament.
This program is offered in English and must be completed within 2 years.
Learning Outcomes
Advance your career and reach the highest levels of parliamentary management!
This program is designed to enable you to:
Support the work of parliamentarians
Contribute to strengthening parliamentary governance in your country
Apply successful research and policy analysis methods, while contributing to the legislative process
Exchange best practices with parliamentarians from around the world
Program Benefits
Enrich your parliamentary knowledge through a curriculum design based on feedback from parliaments from all over the world
Study at McGill University, ranked among the world's top universities
Experience the flexibility of online courses, enabling participants to complete program requirements with minimum disruption to their work and family schedule
Apply what you learn to your own parliamentary environment and choose your own practical research projects
Work with, and be mentored by, a highly qualified teaching team combining senior-level practical parliamentary experience and world-class subject-matter expertise
Share your work experiences and network with your international colleagues to ascertain best practices and explore the possibility of short-term parliamentary attachments
Receive a Professional Development Certificate in Parliamentary Management from McGill University's School of Continuing Studies upon successful completion of the program
Who Should Attend
Mid-level parliamentary staff, who have the potential to reach the highest levels of parliamentary management
Priority will be given to procedural staff, research staff, and administrative staff involved in the corporate governance of parliament
Staff from the executive and judicial branches of government, political caucuses, international development and assistance agencies, journalists from the parliamentary press corps, as well as mid-career professionals who wish to work in parliament (space permitting)
Testimonials
"It was an enriching experience all the way. The program helped me understand the importance of capacity building for parliamentary staff and even parliamentarians to ensure good governance and accountability."
Aisha Ali Kotoko - National Secretariat of Nigerian Legislatures, National Assembly of Nigeria